The Role of Education and Knowledge Workers in the Economic Development Process
Text is published in periodical "Survey" 1-2, 2007
Keywords:
economic development, education, human capital, knowledge workers, enterpreneurship
Abstract
Since the time of Adam Smith and David Ricardo, economists have been interested in the issues of economic development and the causes generating them. The first models of economic development and growth were formalised in the mid 20th century. These early models, known as the "neoclassical approach" to economic development, had a number of shortcomings. A series of much more sophisticated models, which were based on new theories of economic development, appeared in the early 1980s. These models were significantly different from the earlier models and were directed at highlighting the importance of human capital and entrepreneurship as important determinants of economic development. The new theories also highlighted the fact that government policies need to play an important role in determining long-term development and economic growth of a country and provided a useful model for understanding the influences of education on economic development through designing an adequate education policy. These more recent models of economic development underline that education contributes to economic development by increasing the productivity of workers and generating the development of knowledge, ideas and technological innovations. Education is the key entry point to the process of research sector development, which produces new knowledge and ideas. Education has an indirect effect on economic development and research has shown that a higher level of human capital, i.e. a larger number of knowledge workers, is connected to a significantly higher level of investments, a higher level of technological transfer and longer life expectancy. In one of his most creative moments of farsighted lucidity a great theorist of management Peter Drucker , who died last November, wrote: "To make knowledge-work productive will be the great management task of this century, just as to make manual work productive was the great management task of the last century". Knowledge workers and entrepreneurs are the heart of a modern economy. Economic growth is not generated on the shoulders of bureaucracy. Economic development is led by persons who possess courage and knowledge for producing and presenting new ideas, products and services, which not only satisfy needs, but also generate the increase of production, revenues and employment.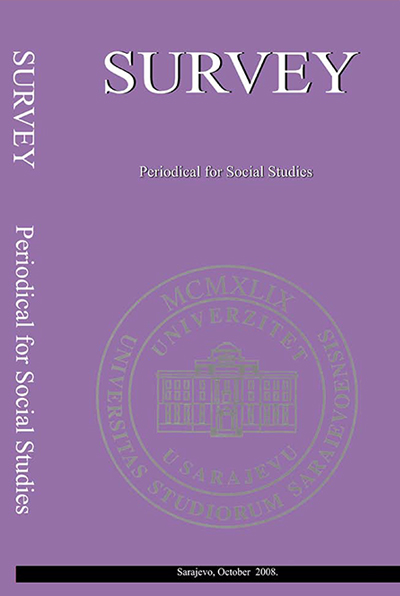 Downloads
How to Cite
Čizmić, E., & Imamović-Čizmić, K. (2008). The Role of Education and Knowledge Workers in the Economic Development Process: Text is published in periodical "Survey" 1-2, 2007. Pregled: časopis Za društvena Pitanja / Periodical for Social Issues, 4(4), 125–160. Retrieved from https://pregled.unsa.ba/index.php/pregled/article/view/854
Section
Articles / Članci
License
Copyright (c) 2021 Pregled : časopis za društvena pitanja / Periodical for social issues
This work is licensed under a Creative Commons Attribution-NonCommercial 4.0 International License.