Family Violence Legislation in the Federation of Bosnia and Herzegovina
Keywords:
violence, family, victim, abuser, law, protection, sanction, help, prevention
Abstract
This paper provides an outline of family violence legislation in the Federation of Bosnia andHerzegovina as defined by the Law on Protection from Family Violence, Family Law and Federal Criminal Law, together with the definition of violence and its forms. Prohibition of violence on the basis of sexual orientation in "private" and "public" life, as defined by the Law on Gender Equality in Bosnia and Herzegovina, passed at the state level, thus in force in both entities, is also partially discussed. Critical analysis of legislative acts has clearly shown a discrepancy between the above-mentioned laws, both in the sense of determining mechanisms and in the sense of ways of protection against family violence. For example, the Law on Protection against Family Violence defines family violence as a criminal act, under the jurisdiction of the regular courts, and, at the same time, it determines security measures issued by courts for criminal offenses. Apart from lack of experience at courts for criminal offenses, which almost sporadically issue the sanctions, difficulties in implementation of security measures determined by the Law are also present in implementation of the measures issued, which is followed by a number of other difficulties. Inexistence of institutions for protection and help to the victims of family violence, as well as institutions for obligatory recovery and treatments of abusers, inexistence of alimony funds for temporary help to the victims of family violence, are only some of the indicators which show not only the lack of long-term solutions, but also the lack of complementarity between the legal acts and their implementation possibilities, as well as the insufficient engagement of the state in solving the problems related to family violence.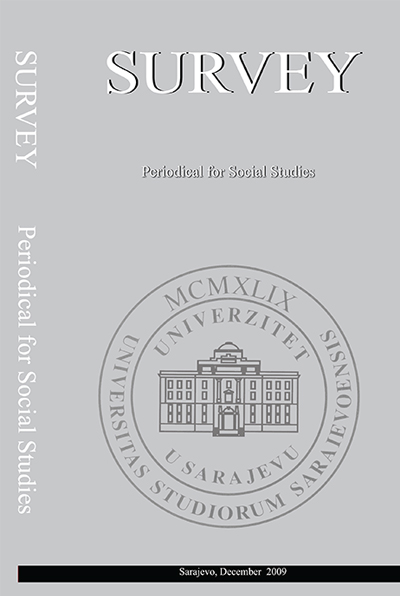 Downloads
How to Cite
Miković, B. (2010). Family Violence Legislation in the Federation of Bosnia and Herzegovina. Pregled: časopis Za društvena Pitanja / Periodical for Social Issues, 4(4), 167–184. Retrieved from https://pregled.unsa.ba/index.php/pregled/article/view/865
Section
Articles / Članci
License
Copyright (c) 2021 Pregled : časopis za društvena pitanja / Periodical for social issues
This work is licensed under a Creative Commons Attribution-NonCommercial 4.0 International License.