Porodičnopravna i socijalna zaštita / Family Legal and Social Protection
Međuzavisnost u razvoju i primjeni instituta starateljstva nad punoljetnim osobama / Interdependence in the Development and Application of the Institute of Adult Guardianship
Keywords:
family law, social protection, interdependence, social welfare center, adult guardianship
Abstract
The adult guardianship institute in Bosnia and Herzegovina is not just a family relationship, but also a family law institute, the implementation of which requires the granting of a social protection. It is precisely the interdependence of these areas that leads to the achievement of the common goal, which is manifested in the provision of appropriate care and protection to adults under guardianship. Bearing in mind the overlapping of social protection and guardianship, those two terms are often substituted. Therefore, the terminological definition of terms is provided in the document: guardianship, social protection and social care. Based on the comparative analysis of appropriate legislation, particularly in the field of family legal and social protection, as well as appropriate literature in this field, this paper provides an evolutionary review of the institute of adult guardianship in Bosnia and Herzegovina, as well as the interdependence and overlapping of the family legal and social protection in the development and application of this institute.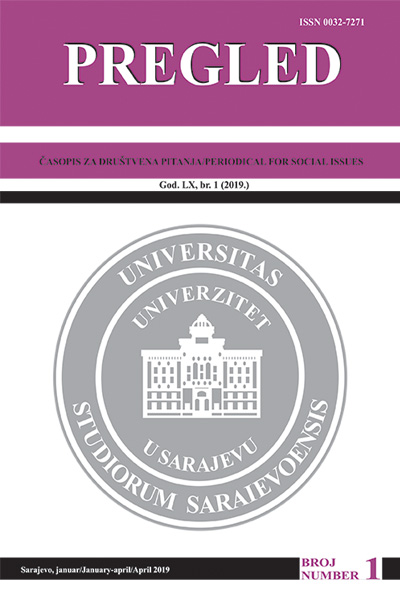 Downloads
How to Cite
Miković, B., & Vranić, D. (2020). Porodičnopravna i socijalna zaštita / Family Legal and Social Protection: Međuzavisnost u razvoju i primjeni instituta starateljstva nad punoljetnim osobama / Interdependence in the Development and Application of the Institute of Adult Guardianship. Pregled: časopis Za društvena Pitanja / Periodical for Social Issues, 1(1), 45–59. Retrieved from https://pregled.unsa.ba/index.php/pregled/article/view/181
Section
Articles / Članci
License
Copyright (c) 2019 PREGLED - Periodical for Social Issues
This work is licensed under a Creative Commons Attribution-NonCommercial 4.0 International License.