The Anatomy of a Paradox
(On Ivan Lovrenovic's Essay Andric, A Paradox of Silence)
Keywords:
Ivo Andrić, methodological incoherence, literary history, paradox, Ivan Lovrenovic, orientalism, ideological approach, reception, positivism
Abstract
Ivan Lovrenovic's essay, which won the "Midhat Begic" Award for the best essay in 2008, is a pretentious attempt of the author to reevaluate the understanding of Andric's work and to reexamine the significance of the work in literary history. In the process, Lovrenovic places a special emphasis on the critic texts on Andric, which reveal and explain his ideological positions. However, Lovrenovic's essay is, in essence, inferior to the very critics of Andric's work he mentions and is, at the same time, methodologically inadequate in relation to Andric's work: Lovrenovic combines in his essay the methods which are incompatible, even contradictory, so it is seen throughout the text that the author is unaware of his own methodological contradictions – he creates a methodological galimatias by demonstrating methodological inconsistency and research incompetence and immaturity. In an attempt to reveal the so-called paradox in understanding ofAndric's literary opus, Lovrenovicwrote an essaywhich is a paradox on its own, thus standing out as an example ofmethodological incompetence in understanding and valorization of a literary work.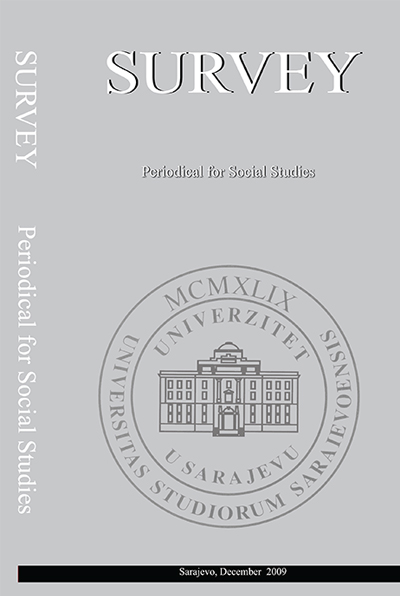 Downloads
How to Cite
Duraković, E. (2010). The Anatomy of a Paradox: (On Ivan Lovrenovic's Essay Andric, A Paradox of Silence). Pregled: časopis Za društvena Pitanja / Periodical for Social Issues, 4(4), 95–107. Retrieved from https://pregled.unsa.ba/index.php/pregled/article/view/863
Section
Articles / Članci
License
Copyright (c) 2021 Pregled : časopis za društvena pitanja / Periodical for social issues
This work is licensed under a Creative Commons Attribution-NonCommercial 4.0 International License.