Poricanje suvereniteta Bosne i Hercegovine i figura "posljednjeg rata" / Denial of Sovereign of Bosnia and Herzegovina and Figure of "The Last War"
Keywords:
Bosnia and Herzegovina, sovereignty, globalization, expansion of the EU to the East, security
Abstract
This paper researches background and explicit relationships, interactions and discontinuations between classic, modern and globalization theories of state sovereignty, considering the changeable meaning of the often used figure of "the last war". The knowledge of what we call "the last" war is not the first or the last of what interest us when we systematically consider the more uncertain difference between what we call peace and what we call war. We prove that, what includes the modern studies of state, politics, security, structural violence and negative peace (which is also connected to non-transparent changing of the meaning of sovereignty), is always shifting, depending on the aims and the varying character of the key categories that figure the new transnational descriptions of the new, (disturbed) reality that we arrived to. An idea was developed in the text, that all great concepts from the domain of classic theories of state and law, and afore all concepts such as sovereignty and political representation – need thorough and radical reconstruction. This reconstruction ought to be real and program based. And, in a normative sense, it ought to become more far reaching than in the dispersed theories of "multitude", especially if we keep in mind the pacifist and security aspects of integrative and disintegrative processes and politics of EU expansion to the East. In what scope have the concepts, such as political, legal, party, parliamentary (re)presentation of population in the post-Dayton ethno-mathematical politics (and aggressive politics of symbols), become moot, becomes obvious only when we face the predator attempts of expansion of sovereignty of neighboring states (Serbia and Croatia) on the Republic of Bosnia and Herzegovina, where – sometimes concealed or secret – it aggregately negates its
independence. The enigma of Bosnian and Herzegovinian sovereignty probably also consists in the fact that this sovereignty, in the global context, is indicated as phantasmagoric, fluid, demonstrational, experiment, laboratory, and most often as an apparition. The core of the issue, however, is the topography of European bureaucratic horror, personalized in the post-Dayton politics of representation, and also the bureaucratic and the "metanarrative" processes within Bosnia and Herzegovina"s entrance to the European Union.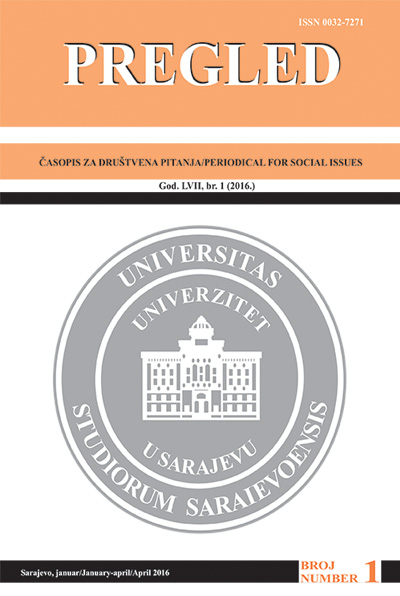 Downloads
How to Cite
Delić, Z. (2016). Poricanje suvereniteta Bosne i Hercegovine i figura "posljednjeg rata" / Denial of Sovereign of Bosnia and Herzegovina and Figure of "The Last War". Pregled: časopis Za društvena Pitanja / Periodical for Social Issues, 1(1), 45–56. Retrieved from https://pregled.unsa.ba/index.php/pregled/article/view/819
Section
Articles / Članci
License
Copyright (c) 2016 Pregled : časopis za društvena pitanja / Periodical for social issues
This work is licensed under a Creative Commons Attribution-NonCommercial 4.0 International License.