Odlazak posljednjeg mislioca filozofskog sistema / Leaving the Last Thinkers Philosophical System
In memoriam: prof. dr. Slobodan Tomović / In Memoriam: Prof. Dr. Slobodan Tomović
Keywords:
philosophy, metaphysics, spirituality, natural philosophy, ethics, logic
Abstract
In this paper, the author bids farewell to his teacher and friend Dr. S. Tomović (1929-2016) in a way of giving the analysis of his key world views, particularly placing the focus on key analytical, original metaphysical philosophical hypotheses and his magnus opus. In addition to the introductory and final letters, this paper discusses the following issues important for interpreting Tomović's unique and
original depiction of the world. These are: The Philosopher and Author of a Meaningful Biography, Author of an Impressive Bibliography, Philosophical Universe Reasoned from Student Time Ideas. Then, a central position in the study is the following interpretation: The three original Tomović's philosophical hypotheses about deciphering the meaning and the formation of man's fate and life (1. "We are alone in the universe" 2. "God created life", 3. "Philosophy of Time"); Lifetime Achievement – "6500 Value Judgements of Philosophy"; drama as the bridge between philosophy, history and literature, Philosophy in the focus of the world,
Tomović as a teacher and educator; the position of Tomović in Montenegrin philosophy and Southern Slavic people's thought. Tomović's philosophical and literary spirituality, adorned critical artistic inspiration, common sense and ethical uprightness in time. This is the first more complete discussion of Tomović's philosophical system of thought.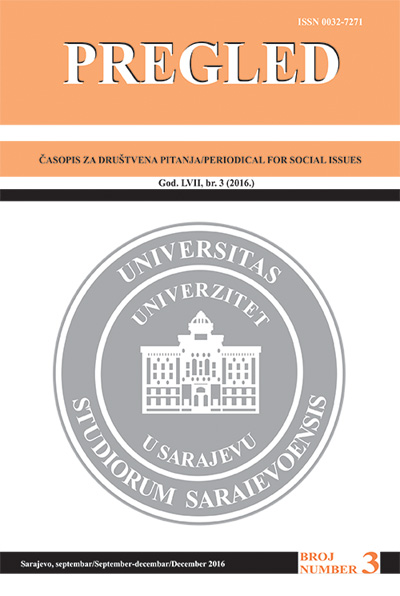 Downloads
How to Cite
Krcić, Šefket. (2017). Odlazak posljednjeg mislioca filozofskog sistema / Leaving the Last Thinkers Philosophical System: In memoriam: prof. dr. Slobodan Tomović / In Memoriam: Prof. Dr. Slobodan Tomović. Pregled: časopis Za društvena Pitanja / Periodical for Social Issues, 3(3), 233–261. Retrieved from https://pregled.unsa.ba/index.php/pregled/article/view/814
License
Copyright (c) 2016 Pregled : časopis za društvena pitanja / Periodical for social issues
This work is licensed under a Creative Commons Attribution-NonCommercial 4.0 International License.