Jezik i jezička odgovornost / Language and Linguistic Responsibility
Pojam 'formacije' u svjetlu akademskog izučavanja jezika / The Concept of 'Formation' in the Light of Academic Language Studying
Keywords:
formation, educational formation, (academic) education, language formation, academic language education, language meta-competencies (as "overarching" competencies), linguistic freedom of movement, linguistic responsibility, linguistic criticism
Abstract
This paper is an attempt to define formation as a theoretical concept, but also as practicedwithineducation in academic language and general linguistics, with particular emphasis on foreign languages studies. The paper offers some reflections which could serve as the basic ideas for planning and implementing the process of language formation, and encourage reflection on contemporary challenges of language formation, as well as the search for answers in the educational institutions. As a historical overview of the concept of formation, the second part of the paper presents this concept through the prism of Wilhelm von Humboldt"s life story. His considerations of language can be associated with the theory of systemic-functional linguistics, according to which language is regarded as a resource for the creation of meaning. Foreign language studies contribute to higher level of freedom of movement between different linguistic worlds, making our world more spacious and broadening our worldviews. Developing the thoughts about linguistic freedom of movement, the rest of the paper pointsto the responsibility that accompanies this, as every other, freedom. This paperpoints the way to raising the awareness of language andresponsibility forour language use to a higher level within and through the academic language education. One wayto achieving this objective, could be ourconscious reflection of language or linguistic criticism illustrated with concrete examples from the subject English language, along with the specific examples from the German language, which are relevant in the context of linguistic criticism.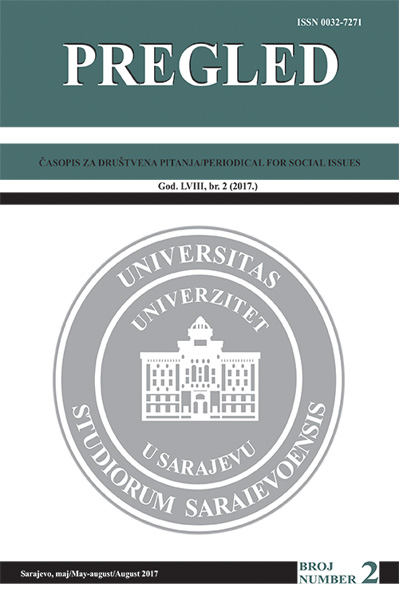 Downloads
How to Cite
Arnautović, A. (2017). Jezik i jezička odgovornost / Language and Linguistic Responsibility: Pojam 'formacije' u svjetlu akademskog izučavanja jezika / The Concept of 'Formation' in the Light of Academic Language Studying. Pregled: časopis Za društvena Pitanja / Periodical for Social Issues, 2(2), 61–79. Retrieved from https://pregled.unsa.ba/index.php/pregled/article/view/449
Section
Articles / Članci
License
Copyright (c) 2017 PREGLED - Periodical for Social Issues
This work is licensed under a Creative Commons Attribution-NonCommercial 4.0 International License.