Mladi i zdravlje / Young People and Health
Analiza oftalmoloških skrining pregleda studenata Univerziteta u Sarajevu / Analysis of Ophthalmological Screening Examinations of Students from the University of Sarajevo
Keywords:
student population, ophthalmological screening examinations, refractive anomalies, myopia, myopic astigmatism, hypermetropia, amblyopia, spasm of accommodation, computer eye syndrome, refractometer, correction, H. M. C.
Abstract
In the ophthalmological cabinet of the Student Health Protection Institute of the University of Sarajevo, after everyday examinations of students, many continuous and numerous diseases of the anterior and posterior eye segments were noticed. Growth tendency is also related with visual acuity symptoms (increased number of refractive anomalies). Besides books, students in the teaching process are also focused on computers, laptops which is causing the "computer eye syndrome" (followed by redness, watering, tingling and eye dryness). This syndrome is often combined with visual disturbances or refractive anomalies. Performing screening examinations is very for important for students, which are known for being a vulnerable population group. At the end of 2017, in the Student Health Protection Institute of the University of Sarajevo, many preventive activities were initiated like screening examinations for the early detection and treatment of many diseases. First students who underwent these examinations were the ones from the dormitories in Nedžarići and Bjelave and other collective accommodations (Student Center at the Islamic Community of Bosnia and Herzegovina, Franciscan Student Center, Faculty of Catholic Theology with its dormitory, and the Foundation "Source of Hope"). Later, screening examinations were performed on students from the Faculties of Political Science, Law, Science, Philosophy, Medicine and the Faculty of Islamic Sciences. During these examinations, the most commonly observed ophthalmological diseases were: conjunctivitis, bacterial and allergic etiologies, keratoconjunctivitis caused mainly as complication of wearing contact lenses, herpes simplex keratitis as a complication of laser diopter removal, episcleritis, suffusions, hordeolums, halations, diseases of the posterior segments of the eye as well as eye diseases that are part of rheumatic and demyelinating diseases. There are a large number of refractive anomalies (myopia, hypermetropia and astigmatism) and problems caused by use of computers – computer eye syndrome. There were also cases of visual impairment in one or both eyes and also one case of monoculus. The aim of this text is to present the processed data – relevant indicators of increased refractive anomalies in the student population. Only continuous prevention for the early detection and treatment of such conditions as well as education by ophthalmologists and regular ophthalmological controls can reduce the tendency for these visual disorders to grow.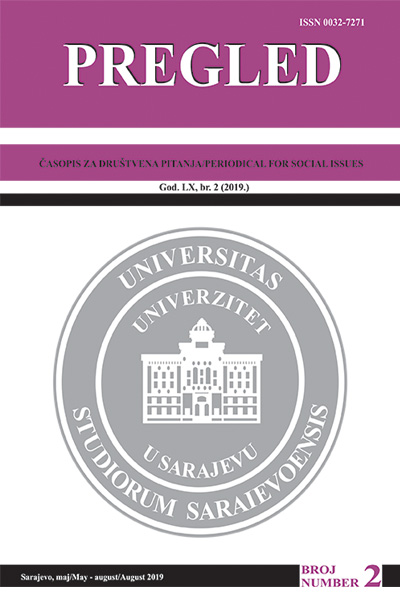 Downloads
How to Cite
Bandžović, A. (2020). Mladi i zdravlje / Young People and Health: Analiza oftalmoloških skrining pregleda studenata Univerziteta u Sarajevu / Analysis of Ophthalmological Screening Examinations of Students from the University of Sarajevo. Pregled: časopis Za društvena Pitanja / Periodical for Social Issues, 2(2), 239–252. Retrieved from https://pregled.unsa.ba/index.php/pregled/article/view/210
Section
Articles / Članci
License
Copyright (c) 2019 PREGLED - Periodical for Social Issues
This work is licensed under a Creative Commons Attribution-NonCommercial 4.0 International License.