Challenges of Bosnia and Herzegovina in Euro-Atlantic Integrations
Text is published in periodical "Survey" 3-4, 2007
Abstract
The multilateral character of the society of Bosnia and Herzegovina, which has been sedimented for a millennium,  should represent its comparative advantage in the process of association to the Euro-Atlantic structures.  On the other hand, it would be difficult to believe the trustworthiness of the proclaimed European principles for European integration, if Bosnia and Herzegovina is not offered help to transcend the legal, political and limitations of other kind, imposed by the Dayton Agreement, which prevent harmonization of the country with the EU principles. The Dayton "solutions" are also not correspondent with the historical character of the society of Bosnia and Herzegovina, its ethnological diversity, which is a result of openness towards the other and the different, as well as of respect and incorporation of "otherness" into its ethnological substance. How to accept the apartheid-like limits in the Electoral Law (in the process of electing the Presidency members and while constituting the House of Peoples), or unequal positioning in the decision-making processes  of legislative and executive organs (the so-called entity voting) which has been instilled in the constitutional system, especially when one refers to the country's insufficiency in comparison to its entities, for which it has been stressed that they are not states? The current Constitution of Bosnia and Herzegovina does not recognize a single positive experience in functioning of the world' s states, not even the legal and political theory in general. That is why it is imperative to harmonize the Constitution with the European environment.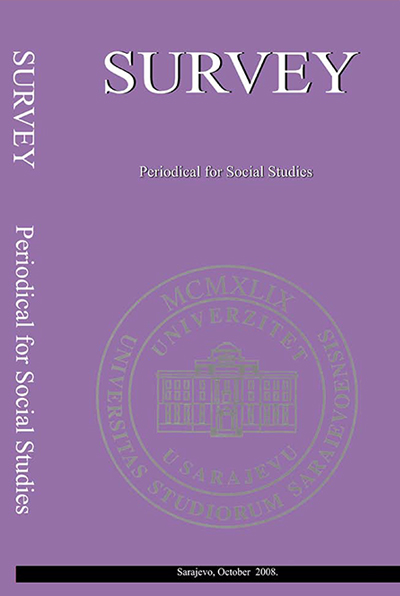 Downloads
How to Cite
Žiga, J. (2008). Challenges of Bosnia and Herzegovina in Euro-Atlantic Integrations : Text is published in periodical "Survey" 3-4, 2007. Pregled: časopis Za društvena Pitanja / Periodical for Social Issues, 4(4), 75–89. Retrieved from https://pregled.unsa.ba/index.php/pregled/article/view/852
Section
Articles / Članci
License
Copyright (c) 2021 Pregled : časopis za društvena pitanja / Periodical for social issues
This work is licensed under a Creative Commons Attribution-NonCommercial 4.0 International License.