Vlast, građanstvo i sloboda / Power, Citizenship and Freedom
Od političke kontingencije do transformacije političkog / from Political Contingency to Political Transformation
Keywords:
state power, citizenship, freedom, democracy, political behavior, civil disobedience, political violence, political parties, interest groups, social movements
Abstract
In political practice of democratic states at certain points it is difficult to reconcile the interests of the citizens and the will of the state government. Moreover, it often happens a kind of paradox, produced by misinterpretation of the right to freedom of assembly and association that democratic government guarantees its citizens. In such a controversial notion of freedom of assembly, the borders between non-violent activity and political violence in democratic regimes authorities are lost. It can spark violent protests of citizens against state authorities. When civil disobedience grows in political violence, it always leads to the decline of the democratic process. Abuse of the freedom of assembly can permanently destabilize the political order and produce the fear of violence by the crowd. Violent protests of citizens in democratic countries are often covertly directed by competing political groups in order to realize their particular demands or exact the dismissal of the elected government and bring an early election. However, in the era of poly-centric
politics, we cannot regard political parties any longer as only sovereign representatives of the will of citizens, since there are other actors of political process which appear as representatives of particular interests of citizens. The public activity of social movements and interest groups in contemporary politics has very much strengthened the overall power and influence of citizens and expanded
the milieu of fundamental political freedoms, but – simultaneously- it has so greatly increased antinomical tension between the needs of the citizens and the will of the authorities.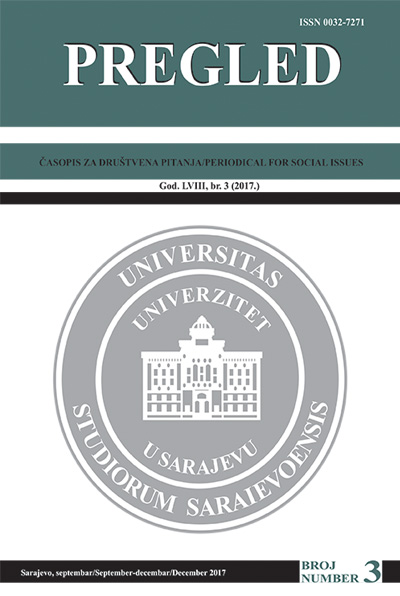 Downloads
How to Cite
Fejzić, E. (2018). Vlast, građanstvo i sloboda / Power, Citizenship and Freedom: Od političke kontingencije do transformacije političkog / from Political Contingency to Political Transformation. Pregled: časopis Za društvena Pitanja / Periodical for Social Issues, 3(3), 101–118. Retrieved from https://pregled.unsa.ba/index.php/pregled/article/view/467
Section
Articles / Članci
License
Copyright (c) 2017 PREGLED - Periodical for Social Issues
This work is licensed under a Creative Commons Attribution-NonCommercial 4.0 International License.