Komunikacijske strategije / Communication Strategies
Keywords:
communicative competence, strategic competence, communication strategy, achievement (compensatory) strategies, avoidance strategies, affective factors
Abstract
The importance and the role of communicative competence, which is an umbrella term for all competences, is an inevitable term in linguistics. The article provides an overview of different models of communicative competence according to the authors – for instance: grammatical competence, sociolinguistic competence, discourse competence, strategic competence. The focus of this article is primarily set on various communication strategies as mechanisms that enable the speaker to overcome difficulties while taking part in the communication process. Owing to a variety of approaches and models, overlapping and vagueness of terminology is not uncommon. However, the paper will attempt to shed more light on the matter at hand by providing a systematic overview. In addition to that, the article gives a short historical insight into the development of the communicative competence emphasizing the elements which have broadened the concept of communicative competence. Various approaches to communicative competence, such as the
traditional approach or psychological approach, are discussed, as well. Communication strategies are divided into achievement strategies (compensatory strategies) and avoidance strategies, the former being considered as positive and the latter as negative strategies in the process of communication. To be more precise, affective factors encourage the speaker to either use the most efficient strategy to compensate for one's lack of language knowledge, or simply let the conversation end by using only short answers. Therefore, the interaction between the speakers with different levels of language proficiency proves that communication strategies are a valuable and commonly used tool to maintain the conversation in order to achieve the goal, i.e. to convey the message.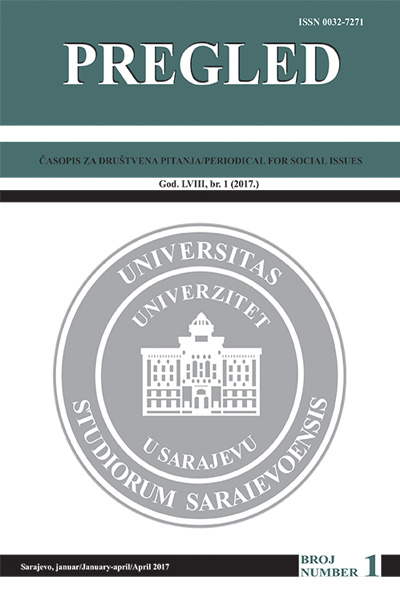 Downloads
How to Cite
Pothorski, I. (2017). Komunikacijske strategije / Communication Strategies. Pregled: časopis Za društvena Pitanja / Periodical for Social Issues, 1(1), 189–203. Retrieved from https://pregled.unsa.ba/index.php/pregled/article/view/438
Section
Articles / Članci
License
Copyright (c) 2017 PREGLED - Periodical for Social Issues
This work is licensed under a Creative Commons Attribution-NonCommercial 4.0 International License.