O filozofskom djelu Esada Zgodića / The Philosophical Work of Esad Zgodić
U potrazi za teorijskom dekonstrukcijom bauka bosanstva / Search for the Theoretical Deconstruction of Bosnianhood's Bugaboo
Abstract
In relations with the social, political and cultural realities of the country and its people, the theoretical and symbolic representations of Bosnia and Bosnianhood conflict and dissipate. It is followed by numerous ideological simulacra and related grotesque aspects of the political, cultural and economic realities of the Bosnian society and its state. The academic reciprocation to this reality is more than annoyance, ignorance, and being ideologically anaesthetized than witnessing ethical responsibility and critical re-examination of all knowledge. According to the text's author, within this framework Esad Zgodić, political philosopher, has questioned almost all ideological simulacra policies that included the Bosnian people. The framework of such inquiries seemed always too narrow for Esad Zgodić, as the reality of the Bosnian question became increasingly appalling as the insight became more sober. He sought to protect himself from epistemological bias' creeping in with theoretical and research coverage. His philosophical work became more diverse and sumptuous, yet with the constant search for confirmation of hypotheses in different experiences and knowledge. This paper presents the most important contents of Esad Zgodić's philosophical thinking in the fields of political theory, weighing in two simultaneous ways - one from the state of existential immersion in Bosnian historical drama and the other in a careful and critical reading of the most important works of political philosophy in the world.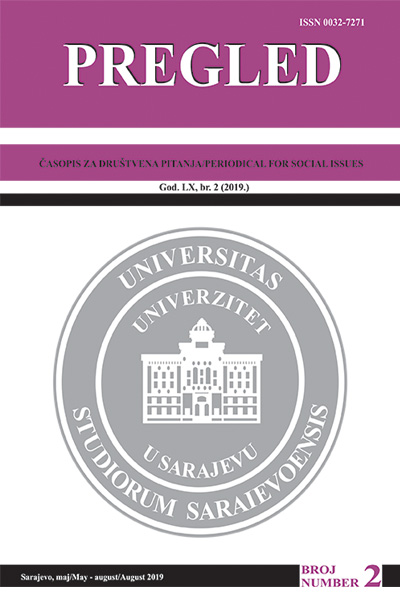 Downloads
How to Cite
Mahmutćehajić, R. (2020). O filozofskom djelu Esada Zgodića / The Philosophical Work of Esad Zgodić: U potrazi za teorijskom dekonstrukcijom bauka bosanstva / Search for the Theoretical Deconstruction of Bosnianhood's Bugaboo. Pregled: časopis Za društvena Pitanja / Periodical for Social Issues, 2(2), 11–26. Retrieved from https://pregled.unsa.ba/index.php/pregled/article/view/196
Section
Contributions / Dodatak
License
Copyright (c) 2019 PREGLED - Periodical for Social Issues
This work is licensed under a Creative Commons Attribution-NonCommercial 4.0 International License.