Zbrka svijeta u romanu "Spoznaja boli" Carla Emilija Gadde / Entangled Worlds in "Experience of Pain" by Carlo Emilio Gadda
Keywords:
confusion, pain, solitude, primitivism, dullness, conformism, a medley of comic and tragic elements
Abstract
The Experience of Pain by Carlo Emilio Gadda is a novel that reveals pain from a subjective point of view. Having been awarded the international Formentor award, it is considered to be a masterpiece and one of the most important works of literature of the 20th century, not only in Italy. The novel depicts a bitter and pain-laden Italian reality after the First World War. Don Gonzalo, the protagonist, is an intellectual who strives to reach beyond conformism of the provincial reality being surrounded by primitivism, dullness and indifference. He is subconsciously trying to rebuild the destroyed family nest hoping to experience blessings of having a home and a family. The thought of the brother who was killed during the war is constantly on his and his mother's mind. Still, the myth of the family nest proves to be impossible to embody. Gonzalo blames his parents for poverty and self-sacrifice they drove him to in order to build a villa, which for him represents a symbol of an empty and absurd social prestige. Comic and tragic elements often overlap in this novel. A noble reality, represented by the grief of the family members for the deceased brother and the learned protagonist, is juxtaposed to an absurd and meaningless reality. The author is constantly playing with tragic and comic elements, bringing them together only to make a contrast. In this way, the author provides the readers with unique threads of narration.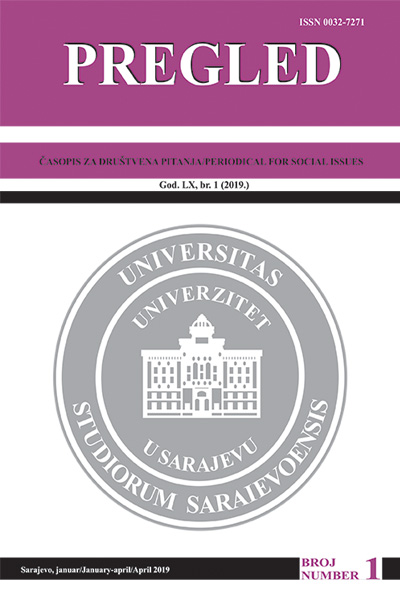 Downloads
How to Cite
Mejdanija, M. (2020). Zbrka svijeta u romanu "Spoznaja boli" Carla Emilija Gadde / Entangled Worlds in "Experience of Pain" by Carlo Emilio Gadda. Pregled: časopis Za društvena Pitanja / Periodical for Social Issues, 1(1), 237–249. Retrieved from https://pregled.unsa.ba/index.php/pregled/article/view/191
Section
Views and Opinions / Pogledi i mišljenja
License
Copyright (c) 2019 PREGLED - Periodical for Social Issues
This work is licensed under a Creative Commons Attribution-NonCommercial 4.0 International License.