Lokalno poslovno okruženje iz perspektive poslovne zajednice / Business Community Perspective on Local Business Environment
Keywords:
Local business environment, Local economic development, Bosnia and Herzegovina, business community, location, growth and development theory
Abstract
At the beginning of this century, local governments, local self-government units, were reaffirmed as an important participant in development policy. The growing importance of the local business environment for local economic development, but also development at all other levels, has been recognized. The local business environment can be explored from different perspectives. In this paper, the topic is the local business environment from the perspective of the business community, because there is a lack of research and works of the local business environment from this perspective in Bosnia and Herzegovina. In this context, the focus is on three dimensions of the business environment. The first dimension includes procedures, activities and services provided by local governments that have or may have an impact on the business community. The second dimension refers to land use, spatial planning, spatial, urban, regulatory and implementation plans and other relevant documents, as well as the process of issuing a building permit. Finally, the third dimension includes the prices and quality of utilities and local infrastructure. All three dimensions have their basis in the rights and responsibilities of local self-government units determined by the statutes of the local self-government unit, constitutions of higher levels of government, relevant European documents, laws, regulations, provisions, practices at relevant levels and theories. In this context, three research questions were asked. The answers to the questions asked are generated by elements to solve the observed problem. The paper uses the survey method as the basic method. 400 companies from Bosnia and Herzegovina were surveyed. In addition, other relevant methods were used. Theoretical foundations of the research are provided by location theories and growth and development theories.The results can be used as inputs in evaluating existing policies and strategies of local governments or creating new local economic development strategies for the third decade of this century.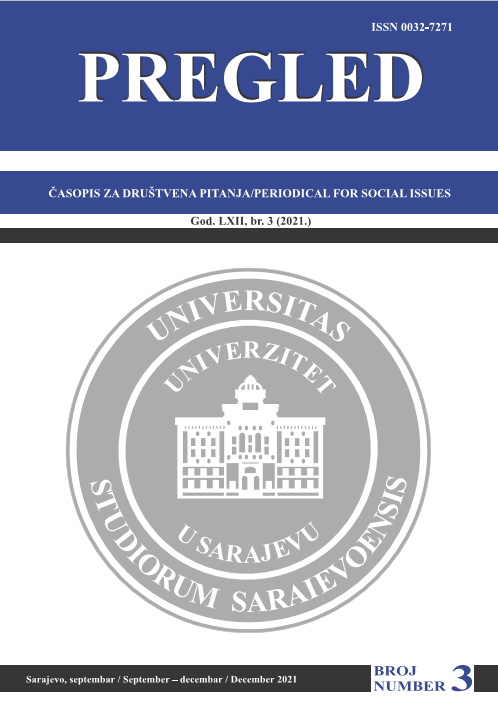 Downloads
How to Cite
Halilbašić, M. ., & Osmanković, J. (2022). Lokalno poslovno okruženje iz perspektive poslovne zajednice / Business Community Perspective on Local Business Environment. Pregled: časopis Za društvena Pitanja / Periodical for Social Issues, 62(3), 01–22. https://doi.org/10.48052/19865244.2021.3.1
Section
Articles / Članci
License
Copyright (c) 2022 Pregled: časopis za društvena pitanja / Periodical for social issues
This work is licensed under a Creative Commons Attribution-NonCommercial 4.0 International License.