Uticaj muzičko-plesnog edukacijskog programa / Influence of a Specific Music and Dance Educational Program
Na razvoj koordinacije tijela i brzine pokreta kod djevojčica s oštećenjem sluha uzrasta od 11 do 15 godina / On Development of Body Coordination and Speed of Movement on Girls with Hearing Impairments at the Age from 11 to 15
Keywords:
music, dance, hearing impairment, body coordination, movement speed
Abstract
Throughout most of history, children with hearing impairments were on the margins of society. Because of their place in society, research about the possibility of music perception and engaging actively as a professional musician and dancer, started at the end of the 20th century. Although that progress started at the end of the 20th century, children with hearing impairments from Bosnia and Herzegovina don't have enough support of educational system which could include them in art education. This situation we can especially see in field of music and dance, which are very hard for adjustment because of their sensory impairment. To prove that children with hearing impairments can perceive music and improve their motor ability with the help of dance which is not at their age level, we created a special educational program which consists of music-dance workshops, where the main goal is to improve body coordination and speed of movement with music-rhythmic stimulations and dance. In this program, which last four and half months, we included 14 girls with hearing impairments from eleven to fifteen years of life. At the beginning of this program, we performed initial measurement of body coordination and movement speed, and at the end of this four-and-a-half-months long program, we performed final measurement through five standard tests: Eight with banding (MKOS), Steps aside (MKKS), Envelope test (MKKT), Slalom with three medical balls (MKS3M) and Long jump backwards (MKSUU). For effect analysis of applying musical-rhythmic stimulation, we used t-test for final samples (paired samples test). The results of this research are showing us that there is statistically significant difference in ability of body coordination and movement speed and that this musical-dance workshop program has positive impact on development of chosen motor ability.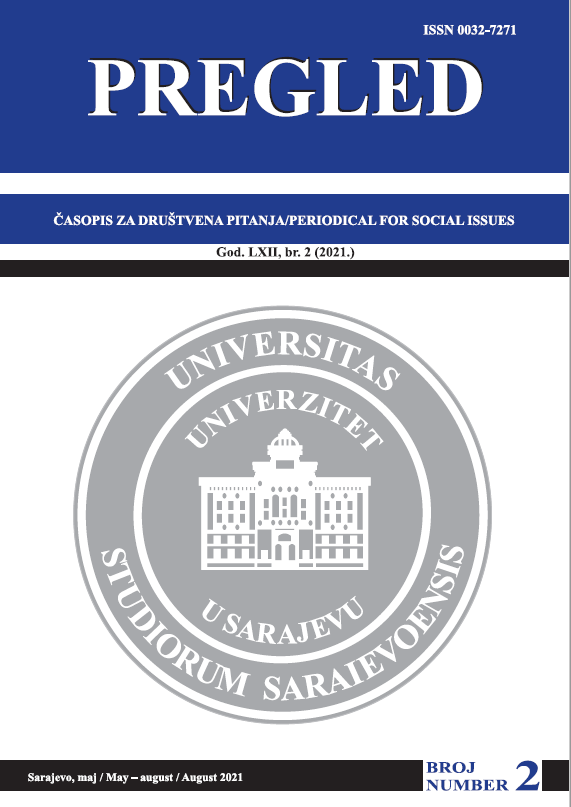 Downloads
How to Cite
Hadžihasanović, I., Čaušević, M., & Mahmutović, I. (2021). Uticaj muzičko-plesnog edukacijskog programa / Influence of a Specific Music and Dance Educational Program: Na razvoj koordinacije tijela i brzine pokreta kod djevojčica s oštećenjem sluha uzrasta od 11 do 15 godina / On Development of Body Coordination and Speed of Movement on Girls with Hearing Impairments at the Age from 11 to 15. Pregled: časopis Za društvena Pitanja / Periodical for Social Issues, 62(2), 21–37. https://doi.org/10.48052/19865244.2021.2.21
Section
Articles / Članci
License
Copyright (c) 2021 Pregled: časopis za društvena pitanja / Periodical for social issues
This work is licensed under a Creative Commons Attribution-NonCommercial 4.0 International License.