Geopolitički kontekst postdejtonske igre suvereniteta / Geopolitical Context of the Post-Dayton Sovereignty Game
Između suverene i postsuverene Bosne i Hercegovine / Between a Sovereign and Post-Sovereign Bosnia and Herzegovina
Keywords:
sovereignty, post-sovereignty, Dayton Accords
Abstract
This paper problematizes the question of (internal) sovereignty of post-Dayton Bosnia and Herzegovina. The phenomenon of the efforts to construct Bosnia and Herzegovina through peace treaty which transformed the conflict into a peace process, as a post-sovereign non-state on the basis of the sum, or the differentiations of its ethnic-territorialities should be examined in the context of
international and geopolitical conditions from the time of Dayton. From the first aspect, the issue of the sovereign in Bosnia and Herzegovina will be problematized, whether it belongs to its institutions, entities or the constituent peoples, while from
the second the impact of the international community in Bosnia and Herzegovina, institutionally and politically presented through OHR, will be analyzed thus demystifying the background of the post-Dayton constitution of Bosnia and Herzegovina as an improvised, scenario-state. In this way, the Bosnian interventionist experiment led by the United States is trying to be shown as the cornerstone which established its unipolar, post-Cold War foreign policy, making it a global hegemon, and Bosnia and Herzegovina as an experimental area of the international community led by the United States.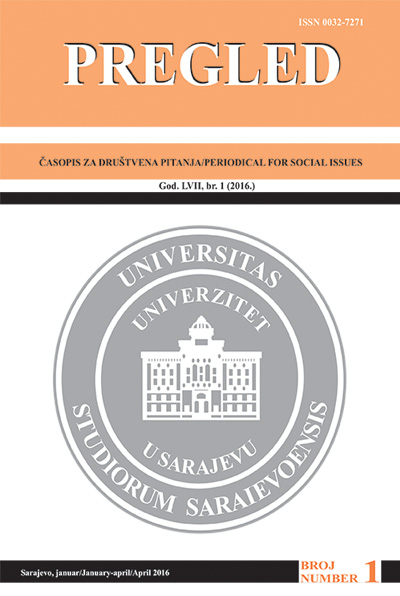 Downloads
How to Cite
Hasanović, J. (2016). Geopolitički kontekst postdejtonske igre suvereniteta / Geopolitical Context of the Post-Dayton Sovereignty Game: Između suverene i postsuverene Bosne i Hercegovine / Between a Sovereign and Post-Sovereign Bosnia and Herzegovina. Pregled: časopis Za društvena Pitanja / Periodical for Social Issues, 1(1), 163–182. Retrieved from https://pregled.unsa.ba/index.php/pregled/article/view/827
Section
Articles / Članci
License
Copyright (c) 2016 Pregled : časopis za društvena pitanja / Periodical for social issues
This work is licensed under a Creative Commons Attribution-NonCommercial 4.0 International License.