Tabla kvartira (tabla praroditelja)
Keywords:
tabla kvartira, porodično stablo, genealogija, parentela, generacija, nosilac kvartira, proband(us), heraldika (grboslovlje), kvartiri, parentacija, numerička oznaka, vlastiti broj, ponavljanje kvartira, socijalna endogamija, geografska endogamija, incest, implex, inbriding, genetsko srodstvo, koeficijent inbridinga, alel, gubitak kvartira
Abstract
Tabla kvartira (tabla praroditelja) je jedna vrlo poznata i popularna genealogija (stablo) u razvijenom svijetu. Kod nas je ona malo poznata kako u publicistici tako i široj javnosti. Prikazi tabli kvartira, što važi i za druge genealogije, mogu biti dati grafički u jednom shematskom obliku ili tekstualno u obliku liste (obično jedne knjige). Glavni predmet interesa ove table su generacijski prikazani (pra)roditelji (otac i majka, djed i baka, pradjed i prabaka itd.) jedne (polazne) osobe koju nazivamo proband(us). Genealoške relacije između članova table kvartira se izvode u odnosu na probandusa. Članovi (praroditelji) table kvartira se numeriraju prirodnim brojevima, pri čemu se probandusu dodjeljuje vlastiti broj 1, njegovom (njenom) ocu broj 2, majci broj 3 itd. Uz tablu kvartira se vežu 2 poznate pojave, tzv. pojava ponavljanja kvartira koja uzrokuje kod teoretskog razmatranja nelogično enormno uvećan broj praroditelja po generacijama i pojava gubitka kvartira ("bijele mrlje" u tabli). Ova tabla je bila u primjeni na prostorima današnjih razvijenih zapadnih zemalja još u srednjem vijeku, dok kod nas, na prostorima bivše SFRJ, kao što je već rečeno, to nije bio slučaj, ni onda ni sada. Zato ovim člankom želimo ovu materiju da približimo i našoj čitalačkoj publici.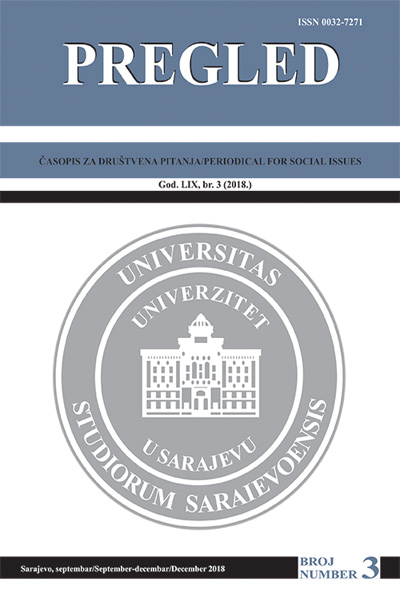 Downloads
How to Cite
A. Hodžić, I. (2019). Tabla kvartira (tabla praroditelja). Pregled: časopis Za društvena Pitanja / Periodical for Social Issues, 3(3), 149–163. Retrieved from https://pregled.unsa.ba/index.php/pregled/article/view/374
Section
Views and Opinions / Pogledi i mišljenja
License
Copyright (c) 2018 PREGLED - Periodical for Social Issues
This work is licensed under a Creative Commons Attribution-NonCommercial 4.0 International License.