Bošnjačko iseljavanje podijeljeno obavezom hidžre i svjetovnim razlozima emigriranja / Bosniak emigration: religious reasons and secure
(Odlazak iz domovine rođenja u domovinu vlastitog izbora i tuđeg nagovora) / (Departure from the Homeland Based on the Choice and Persuasion)
Keywords:
the secular causes of emigration, push and pull factors of emigration, Bosniak ulema, consequences of Bosniak emigration, bosniak emigrat, Ottoman Empire
Abstract
Since the beginning of the establishment of the Austro-Hungarian rule in Bosnia and Herzegovina, Bosniak people had a suspicion and developed distrust which derived from the occupation. The emigration of Bosniaks started due to the cruel rule, especially during the first military administration, to Rumelia, Anatolia and the Arab countries of the Ottoman Empire.  The moderate policies of the Austro-Hungarian Empire towards Bosniaks resulted in the calmer situation in the country. However, several deeper internal political crises ended with the annexation as an international crisis and triggered major waves of displacement of Bosniaks in the Ottoman Empire. They migrated because of the Muslim obligation of the hidzra (hiğrä) which meant an eviction for religious reasons. Bosniaks believed that they could not live as Muslims under the Christian occupational power. They didn't follow instructions (fètva), messages (risála) or the appeals of Muslim religious authorities that they do not need to obtain hidzra. However, the organized activities of Bosniaks, Muslims and religious scholars (ulema) affected the reduction of the number of Bosniaks interested in moving to the Ottoman Empire. On another side, some Bosniaks had more practical reasons to move out - a hope for a better life and plans for a new beginning.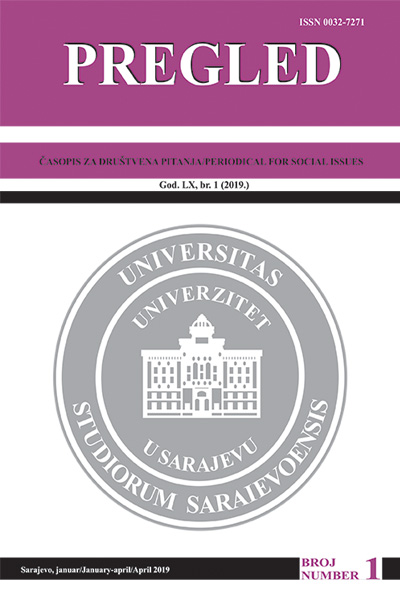 Downloads
How to Cite
Pelesić, M. (2020). Bošnjačko iseljavanje podijeljeno obavezom hidžre i svjetovnim razlozima emigriranja / Bosniak emigration: religious reasons and secure: (Odlazak iz domovine rođenja u domovinu vlastitog izbora i tuđeg nagovora) / (Departure from the Homeland Based on the Choice and Persuasion). Pregled: časopis Za društvena Pitanja / Periodical for Social Issues, 1(1), 1–19. Retrieved from https://pregled.unsa.ba/index.php/pregled/article/view/179
Section
Articles / Članci
License
Copyright (c) 2020 PREGLED - Periodical for Social Issues
This work is licensed under a Creative Commons Attribution-NonCommercial 4.0 International License.